Minox Replacement Parts & Service Information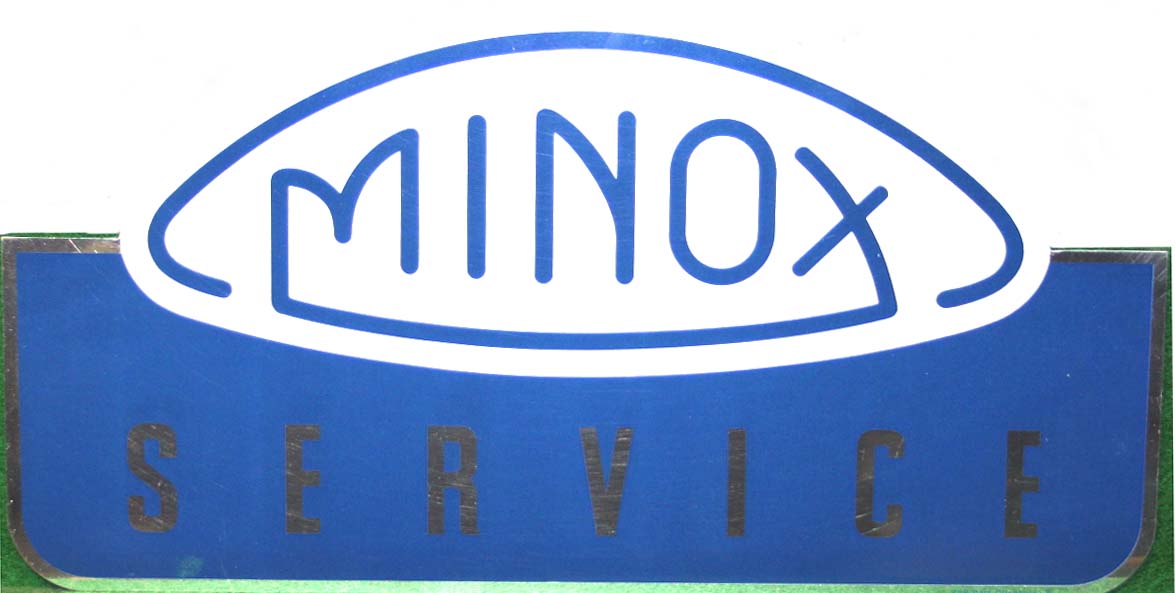 Why You Need To Ask About The Battery Contacts
An Interesting Display Piece - Production of Minox LX Shells
Other Parts, Service and Links to Repair Articles & Other Sites
---
Minox subminiature cameras are a great design, but the shutter blades and springs are very delicate and camera failure is most often accompanied by having to replace these parts, but their availability has been very unpredictable for the past few years.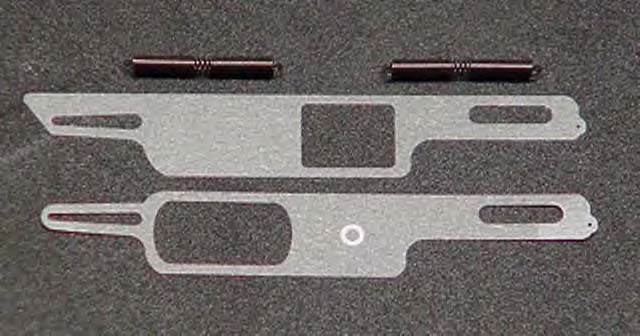 I am now making replacement shutter blades and springs which fit the Minox A (II/III/IIIs) B and BL or C, LX, TLX, CLX or AX models. A set consists of a pair of shutter blades and 2 springs, but you must specify which model you intend to use them for in order to get the correctly marked blade. These parts are not Original Minox Equipment, but parts I have had made because OEM parts are not readily available. The blades are an improved design over the Minox blade, made from Hardened Stainless Steel and do not break the way the Minox brand blades do. Their design is based upon the latest Minox design...the configuration for the LX but will fit any of the models listed above. The price for one set is $25 plus shipping anywhere in the world. Email me directly for ordering information info@minoxdoc.com.
Important Note: One of the common reasons for the failure of the shutter blades is if they become contaminated with lubricant which eventually gets gummy and causes the blades to stick to each other or the guide they ride in. These shutter blades are designed to run dry. All shutter blades should be degreased before installing, whether you are re-using old blades or using brand new ones. Even fingerprint oils can be a problem, so make sure they are completely clean before installing them. NEVER apply any sort of lubricant to the blades, NEVER! The shutterbug article which I have provided a link to below incorrectly says to use grease on the blades...don't do it.
---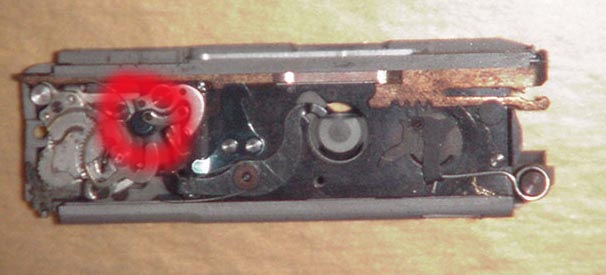 The black part shown circled in red is what is called the shutter brake bumper. All mechanical Minox 8X11 cameras have one and it is basically a small black rubber washer which acts as a stop for the shutter mechanism. On early A cameras (under about serial number 50,000) this part will often be dried, cracking or completely deteriorated. Often you will see chunks of black material floating around the viewfinder of cameras which have a degraded bumper. I believe that after serial number 50,000 (approximately) that Minox changed the material and most cameras after that will not exhibit any degradation of this part. The shutter mechanism will not operate properly without this small, simple part so it is critical that it be replaced if it is bad. So, if you are working on a camera in the early range or notice that the bumper in your camera is dried, hard or missing and need a new bumper, I do have them available for sale for $3 each. Email me directly for ordering information info@minoxdoc.com.
---
Why You Need To Ask About The Battery Contacts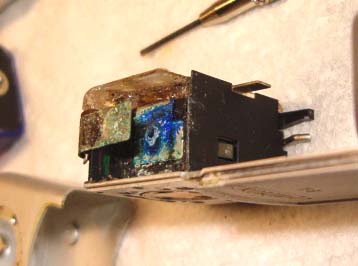 Here's a photo of the battery contacts from a Minox BL that I repaired recently which had the battery left in it for a prolonged period. Minox selected mercury cells for all of their battery powered cameras because of their stable voltage characteristics, unfortunately, these cells have a tendency to leak, and leak badly. This is the result. If you are buying a Minox BL, C, LX or EC camera you need to inquire if there are signs of past battery leakage or corrosion. This damage is not just cosmetic...the leakage travels into the meter/circuitry of the camera and can easily damage or destroy it leaving an expensive camera un-repairable. This eBay buyer was lucky, after spending considerable time completely disassembling the meter and painstakingly cleaning each part and reassembling it worked again. The damage to the plating on the battery contacts leaves them susceptible to future oxidation, so they will always need special attention if the camera is to be used...but at least it was saved from the junkyard. Don't let this happen to you...if buying a used Minox inquire about the condition of the contacts...if you own one don't forget to remove the battery when storing it.
Here's a photo of what one looks like which is beyond repair (note how all of the green/white corrosion has spread up into the meter movement itself!):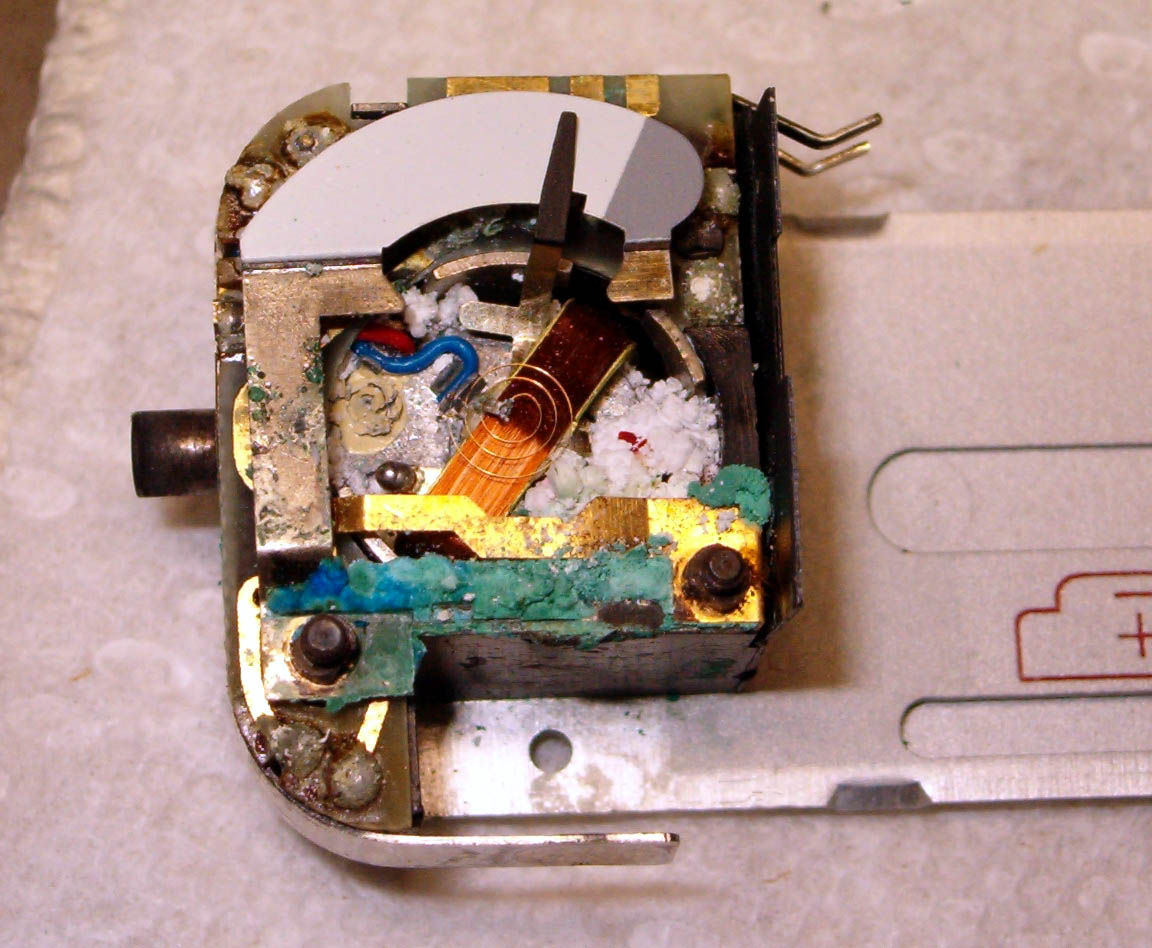 ---
An Interesting Display Piece - Production of Minox LX Shells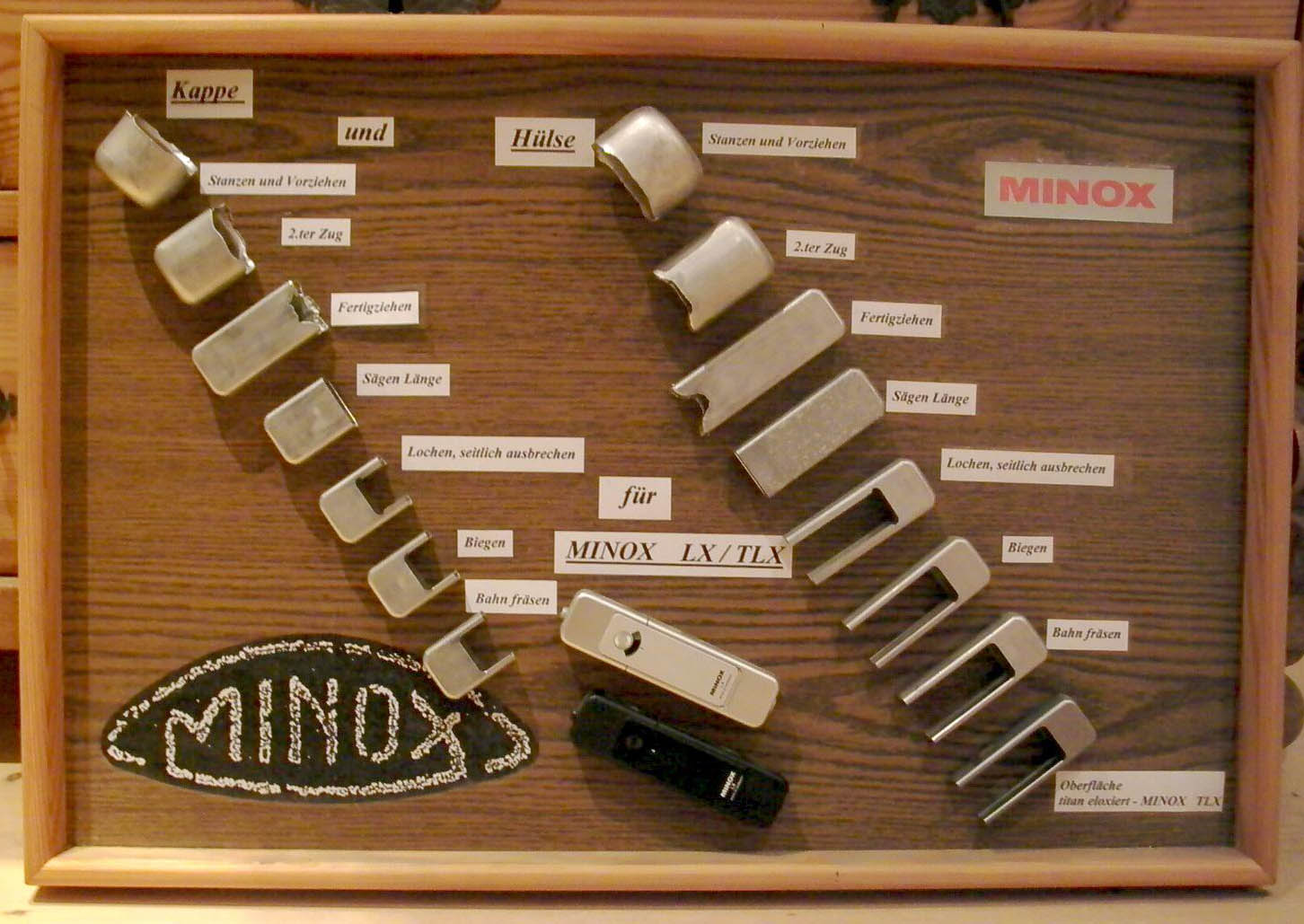 This recently appeared on eBay and I was unsuccessful at purchasing it for my collection but the seller was kind enough to supply some photos and permission to post them here for all to see. Apparently the seller was an employee of Leitz (sister company to Minox and co-owned for a time) and as a machinist had access to the shell parts in various stages of production. He took it upon himself to create this very nice display which shows how the aluminum shell halves of the LX camera are drawn and finished into their final configuration. This really makes you appreciate the number of steps and skill involved with fabricating these simple looking pieces. Here is a close-up of the cocking shell end: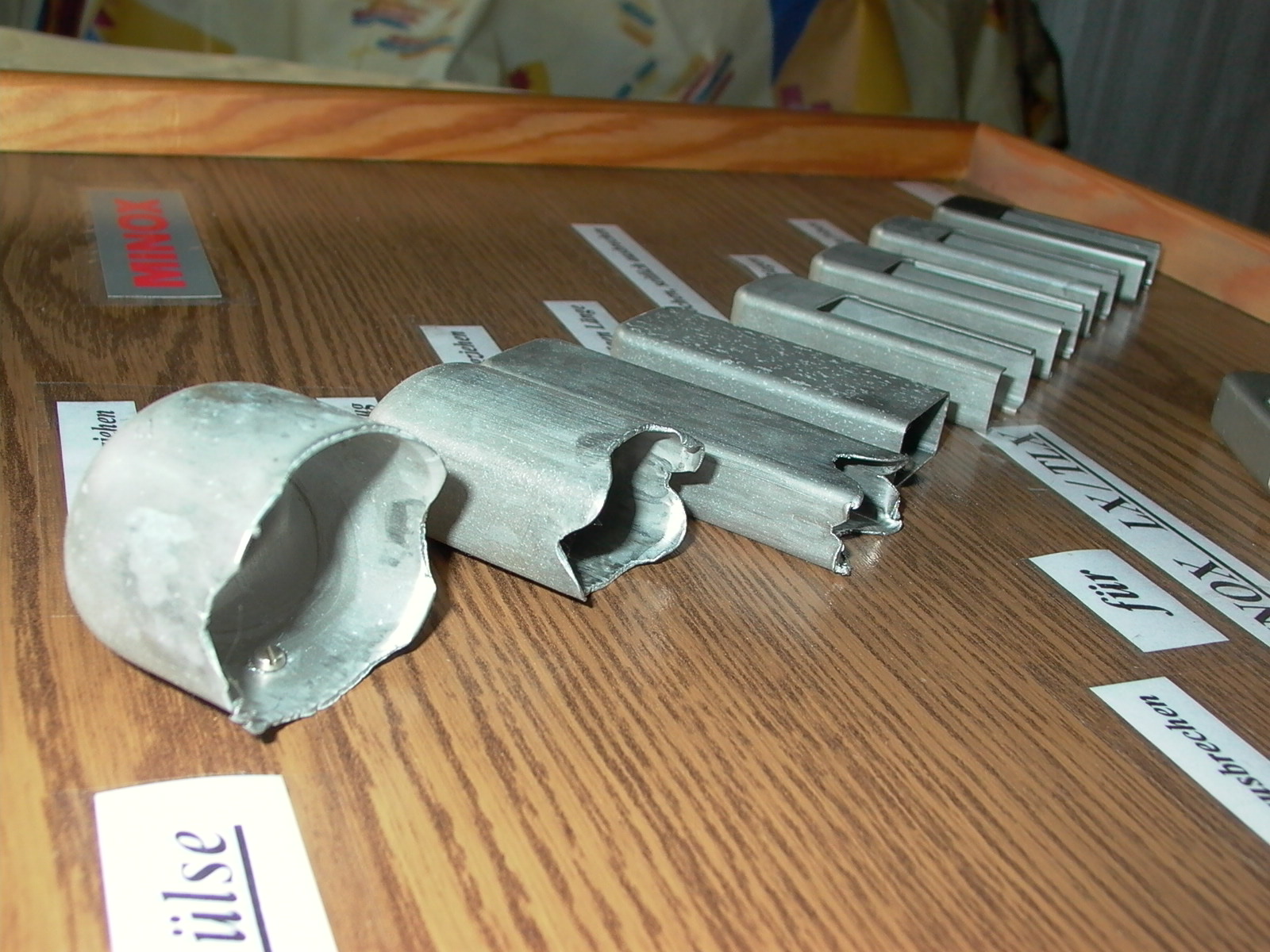 ---
Other Parts, Service and Links to Repair Articles & Other Sites
I also do have some New-Old-Stock and salvaged replacement parts for various models, so email me and let me know what you need and I can see if I have it. You can email me at: info@minoxdoc.com.
For professional service or another parts source check out Don Goldberg's shop: DAG Camera Parts. Don is the official Minox factory authorized service facility for North America and he's truly the Minox guru. If I can't answer your question he can, if he can't then I don't think anyone can!
Also, if you need repair information, check out the links below which will allow you to view and print copies of two old repair articles that you may find helpful. Discounts available for larger quantities, just inquire by email.

Repair Article From Shutterbug, Page 1 Page 2 Page 3 (One note; DO NOT LUBRICATE THE SHUTTER BLADES!)
Rick Oleson's Minox Repair Page (Rick did the illustrations for the Shutterbug Article, be sure to check out his entire excellent site)
Repair Article From Camera Craftsman, Page 1 Page 2 Page 3
A Page Detailing the Disassembly of the Minox C
A good source for Minox film and information about processing: The Frugal Photographer
Minox Germany's website for download of 8X11 instruction manuals: http://www.minox.com/index.php?id=1153&L=2
The entire content of this site (text and photos) is © 2011, all rights reserved