Riga Minox, The Model Which Started It All
In the early 1930's Walter Zapp invented a camera which revolutionized miniature photography. Remember that in the 1930's "miniature" was a term used to describe roll film cameras that used film which was more than two inches wide! 35mm film had just been converted from movie film for use in still cameras by Leitz in Germany but many were skeptical about how seriously such a "small format" could be taken. Now, Zapp proposed to produce images on a negative which was about 1/10th the area of a 35mm frame! Most people doubted that such a small format could produce images of any quality at all. Zapp proposed production of the Minox camera to VEF, a state-owned electronics manufacturer in Riga Latvia which specialized in making radios. In order to convince the management of VEF that the whole concept was feasible he was required to make demonstration photographs with his prototype camera and develop and print the film while in constant company of "witnesses" from VEF who would verify that the photos were indeed produced by the small camera. He did what was asked of him and the rest is history. It should be noted that Walter Zapp died on July 17, 2003 at the age of 97. He left behind a legacy of products which revolutionized photography and literally changed the world in terms of the camera's use in intelligence gathering. There is plenty of good information on the web about Zapp and the early days of Minox...this is only intended to serve as a rudimentary introduction.
The Riga Minox differs from the post-war models in many ways. Most notably is its weight which is about double that of the post-war "Model A". This is attributed to the use of stainless steel and brass in the body and chassis of the Riga Minox versus the aluminum alloys used in the post-war models. Also, the shutter mechanism of the Riga Minox is completely different than the post-war model. It utilizes a single moving shutter blade while the post-war design uses a dual guillotine type design. Although the controls, size and overall feel of the cameras appear identical, the Riga Minox is really a much different camera than the Model A and those which followed. The exact number of Riga Minox cameras produced is unknown. Most agree that production began at serial number 1000 and ended somewhere around 18,000 leaving about 17,000 serial numbers in existence. Many of the later numbered chassis were never completed so there were less than 17,000 camera produced and undoubtedly many have not survived all these years. It is anyone's guess how many exist today.
I am presenting some interesting variations of the Riga Minox camera here which I think you might enjoy seeing.
Riga Minox 01945 - A 12 Tooth Model Riga Minox 11480 Riga Minox #16225 With Box, Made in Germany??
Riga Minox With Original Box Riga Minox #07750 Made in USSR Riga Minox #06820 From Hitler's Retreat
Riga Minox No.02434 With Flash Sync Plug Riga Minox Set #16360 With Pink Box and Latvian Manual
Riga Minox #17130 - Perhaps The Highest Serial Number Camera in Existence?
Early Minox USA Film Box
Riga Minox #01023 - The Earliest Known Minox Camera!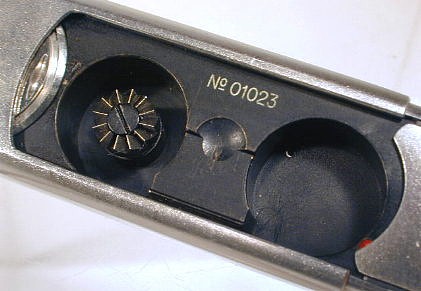 This little prize recently appeared on eBay. It is the earliest known Riga Minox camera to still exist. The common belief is that production began at #01000 so this camera would only be the 24th Minox camera ever produced! Not only that but it still has the original 12 tooth takeup spool and was found with its original leather case seen here: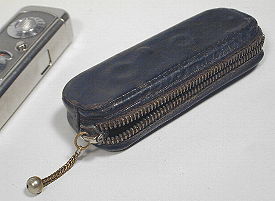 There are several unique features which need to be pointed out. The first is the magnificent "VEF Riga" scrolled logo engraving on the bottom which only appeared on the very first cameras with the last known example to be #01116 (the first known "simple" engraving is #01144 so no more than 144 were made with this "fancy" back):
A closer look at the "Made in Latvia" engraving shows its font to be significantly smaller than ones produced later. Even those cameras documented around serial number 01100 have the normal sized font which nearly fills the entire bottom edge of the plate. Also, of course, it is marked with the "Pat. app." typical of the early cameras below the "Made in Latvia" engraving. The font on the lens cover also seems smaller than later models. Both of these areas are shown below: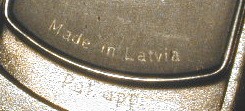 It is the luckiest collector who landed up with this piece in his collection for sure! It landed up selling for over $5,300 to a collector in Germany when the auction was all over.
A very special thanks goes out to the eBay seller for supplying the excellent photos and permission to use them, thanks Randy! Here's one more shot of this spectacular piece: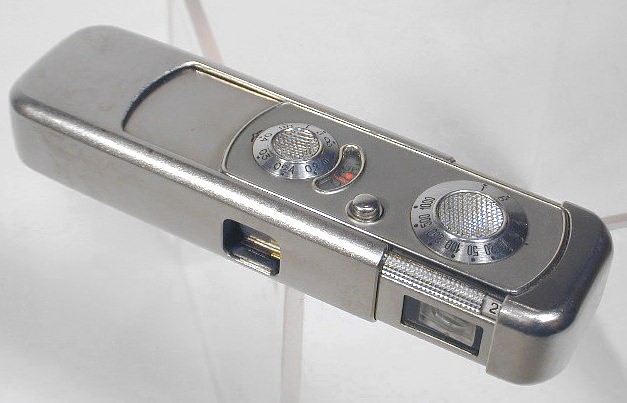 ---
Riga Minox #01945 - A 12 Tooth Model

This Riga Minox camera is another early example with the 12-tooth takeup as can be seen in the photo. While many were made with this, most were "upgraded" by the factory to the new design with 3 teeth which made loading easier. It's not easy to find a nice original 12 tooth model. Top
---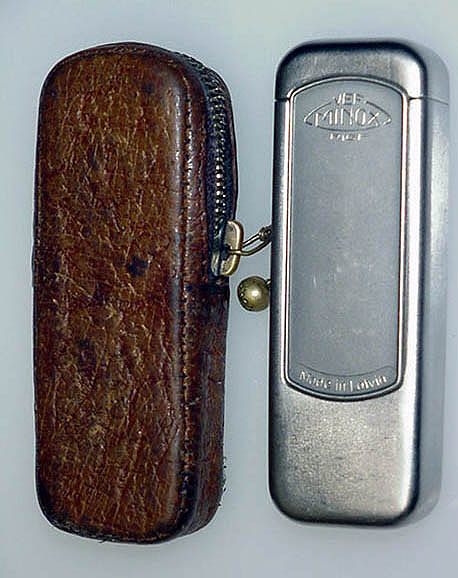 This Riga is interesting because of a subtle detail in its engraving. You will notice that the "Made in Latvia" is set into an area which is milled out. This was presumably done after the Russian occupation of Latvia ended and the Germans occupied it. The story has it that the Russians engraved many cameras with "Made in USSR" prior to their leaving town, and when the Germans came in they milled out the "Made in USSR" and re-engraved the cameras with "Made in Latvia"...interesting story. The case is nice too! Top
---
Riga Minox #16225 With Box, Made in Germany??
I recently purchased this set which appears to be a run-of-the-mill Riga Minox camera set, but there are some interesting oddities about this set when it is closely examined. The box, which appears to be original for this camera, is a post-war German box typically found with early Minox A cameras, not Riga Minox cameras. Here is a shot of the bottom of the box showing the "Made in Germany" stamp and very faintly written in the upper left corner is the serial number 16225. These markings are obviously old: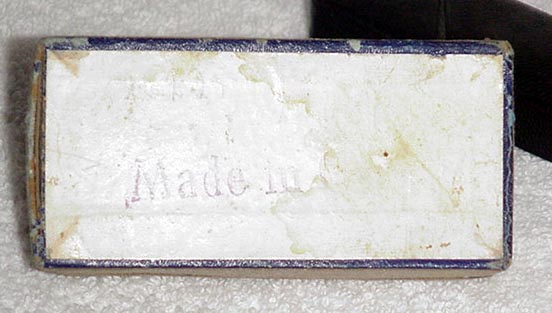 The case also is a nice leather case but is marked made in Germany inside and is different from the Minox A case in the it has no chain hole or belt loop. The final oddity is the engraving on the bottom of the camera: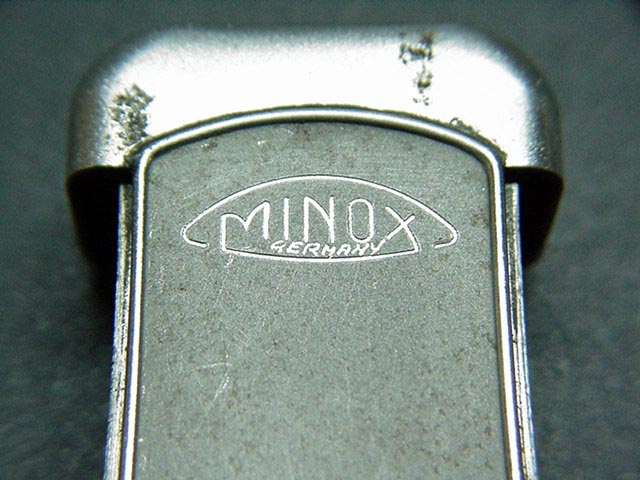 You can see that the engraving does not have the "VEF" logo on it nor the word "Riga". There is no "Patented" engraving or any other marking on the bottom of this camera...just the Minox logo with the word "Germany" apparently hand engraved under it. Here's what Minox guru and all around good guy Don Goldberg of DAG camera repair had to say about it, "When Minox started in Wetzlar they had a bunch of Riga Minox Parts & made up around 20 of them & engraved (I think by hand) Made in Germany. The lst German to work at Minox in Germany was working at Leitz,USA when I was there & told me this".
So there you have it, maybe this is one of those 20 original post war Minox cameras? Perhaps the rarest variant of any Riga Minox? I know this one is NOT one of the more recently assembled cameras which are often seen for sale. This camera has been assembled for some time, it is obvious also that this camera has seen some use too. It came from the estate of a person in Bayport, NY which is located on the south shore of Long Island. It helps to explain the corrosion seen in the body which is often caused by salt water exposure. Perhaps this person from Bayport was an early Minox employee? The whole story will probably never be known, but it goes to show that you see something different all the time!
Update: Thanks to Mr. Saito Masaharu of the Minox club of Japan, the existence of another of these late "German" Riga cameras was brought to my attention. This one is serial number 16151 and had the same later "Minox" logo engraving on the back of the camera as my example except the word Germany was engraved on the top plate, next to the shutter speed dial instead of on the bottom plate. Here is a close-up of the "Germany" engravings on both of these: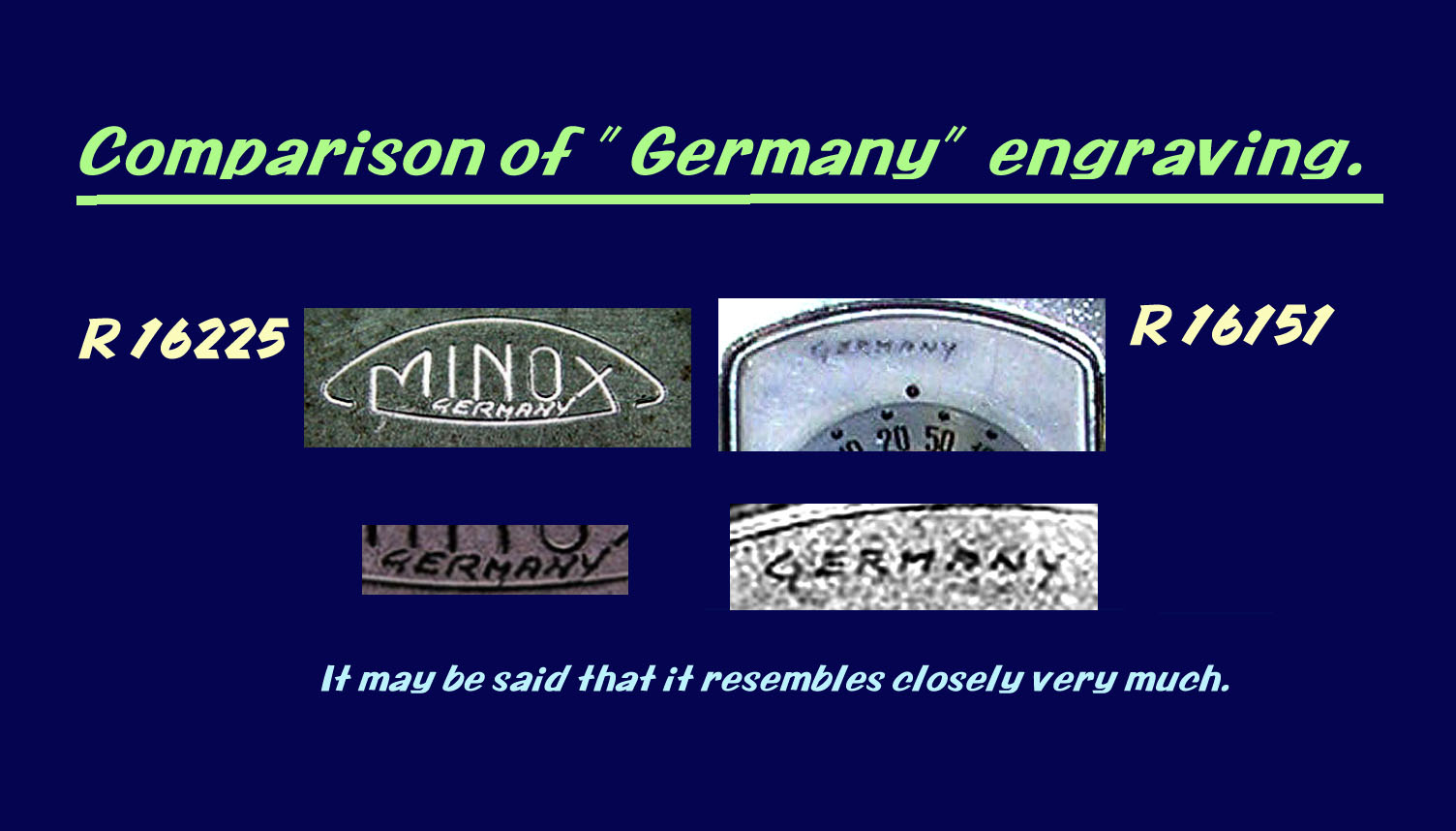 ---
Riga Minox #06876 With Box and Warranty Certificate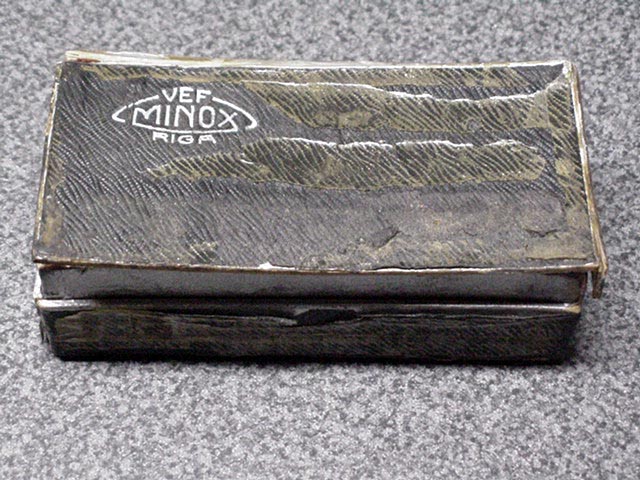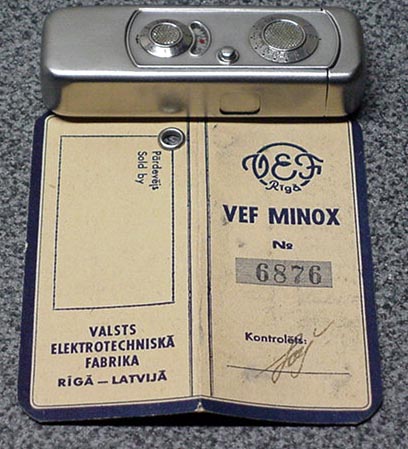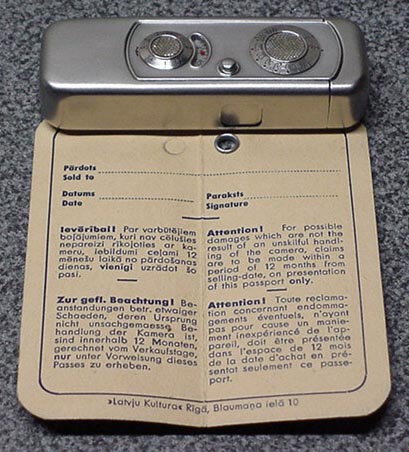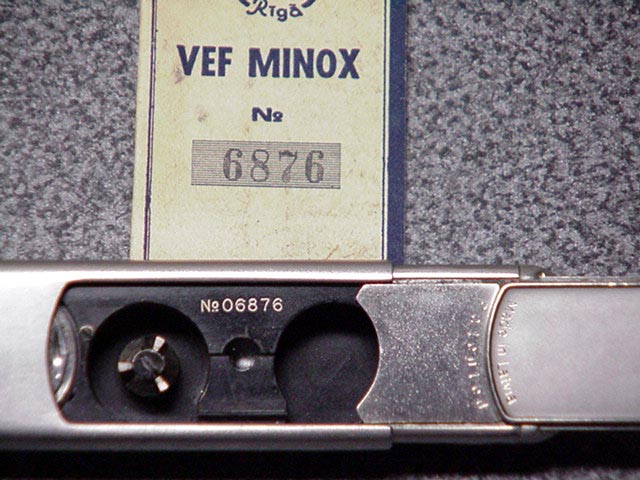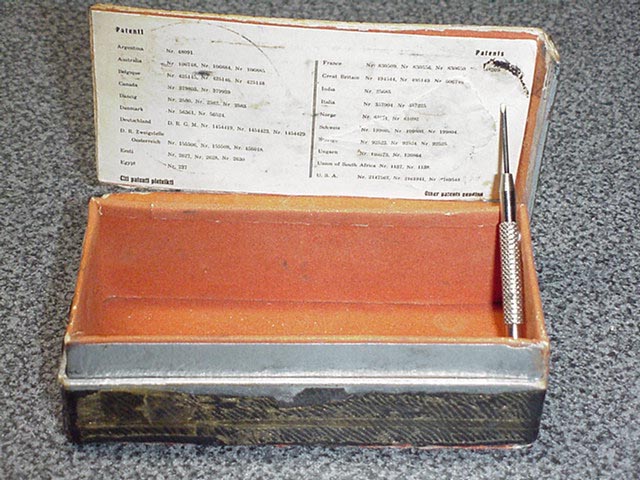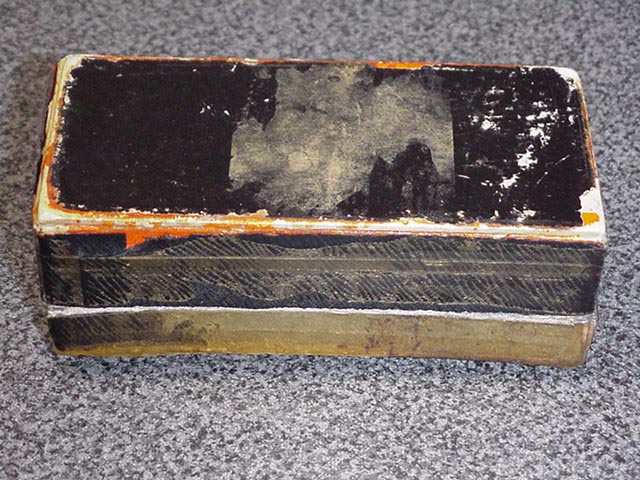 I was lucky to have found this Riga Minox #06876 which came to me with its original box and warranty paper. The box is in very poor condition, but shows what a real original box looks like including a list of patents which was glued to the inside of the box lid, as shown in the bottom center photo. The box is a dark blue leatherette grained paper with and orange velvet liner and has silver trim all around the top lid which matches the silver embossed logo on the top. Many so-called original boxes are showing up on ebay and with dealers in mint condition. Most have no Riga Minox logo on the lid and none have the patent information inside. Prospective buyers should be aware that these boxes were most likely not made for the Riga Minox at all and are certainly not original to any camera they are sold with.
---
Riga Minox #07750 Made in USSR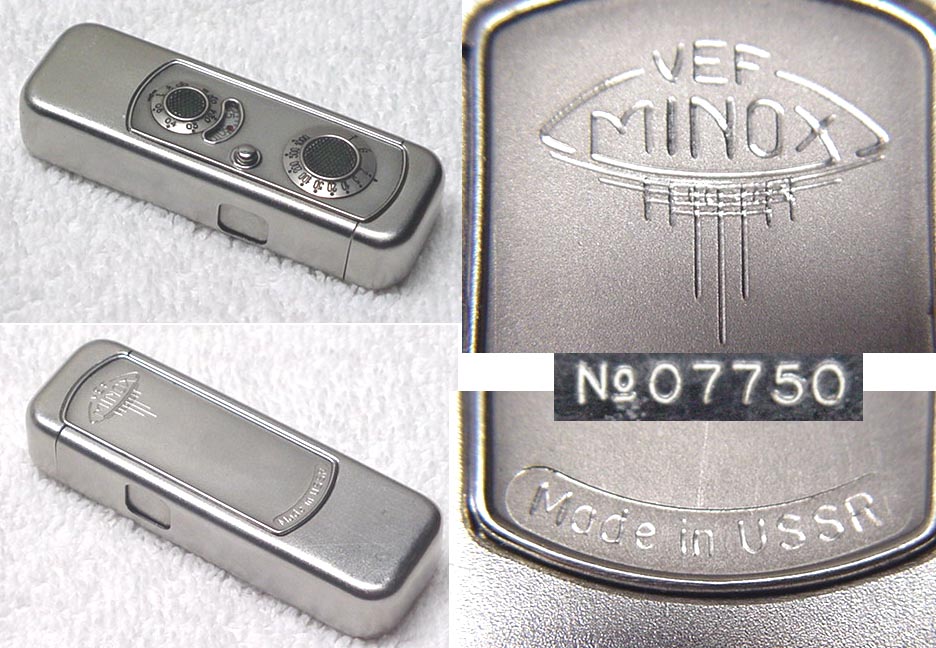 Here is an example of a rare variant of the Riga Minox line. It is one of the early style "Made in USSR" cameras which was re-engraved by the Russians when they first occupied Latvia during WWII. In the upper-right photo you can see how the word "Riga" was skillfully obliterated under the Minox logo while the "Made in USSR" was engraved into a machined area that would have originally read "Made in Latvia". This one is in exceptionally good shape and was sold to me by a man who said his uncle acquired it during WWII while stationed in Europe as a Medic. He stated that a German soldier had been carrying the camera when wounded and the camera was taken from him and discarded, although the film was kept by the US Army. The medic kept the discarded camera as a war souvenir!
As an update, I have also recently acquired another similarly engraved Riga Minox - #08007 which is one of the latest numbers I think exists with this special engraving.
---
Riga Minox #06820 From Hitler's Retreat (Berchtesgaden)
I recently acquired a Riga Minox with an interesting story attached to it: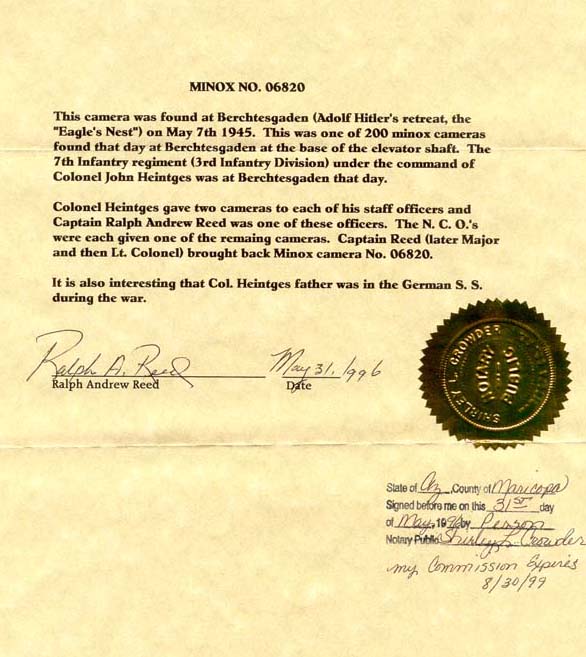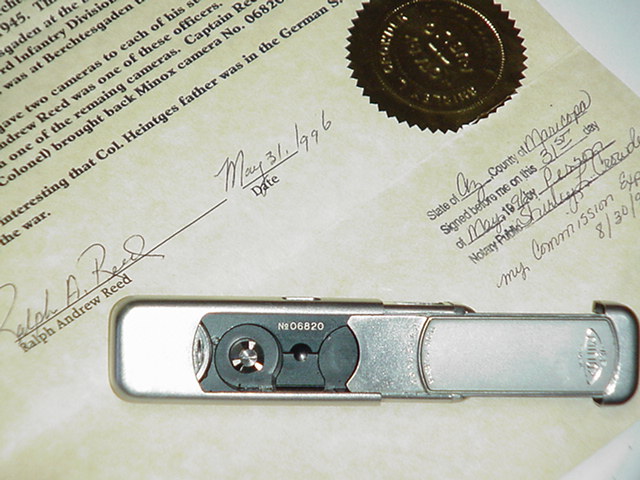 Frankly, I was a bit skeptical of the story. I was skeptical for several reasons. One is the fact that the serial number of this camera seemed to be lower than I would have expected to be part of Hitler's "war booty". By this point production was probably over 10,000. Also, this camera is scaled in Imperial units (feet and inches) instead of metric. Why would the Nazis have had Imperial scaled cameras? I needed to find someone else who could support this story. I searched the internet for any leads I could find. Through the kindness of strangers I was put in touch with a gentleman by the name of Sherman W. Pratt who was kind enough to share his story with me and I have repeated it below:
One of my most priceless souvenirs of my extensive service as an Infantryman in the 3rd Infantry Division in WWII, is the tiny minox "spy" camera I acquired as we captured and occupied Hitler's Bavarian "Camp David" in the closing hours of the war on May 4, 1945. I commanded one of two rifle companies that arrived first in the town and the Nazi compound Obersalzberg up the mountain overlooking the town . One of our alert troopers spotted a carton containing several dozen Minox cameras. The carton was taken to our regimental commander, Col John Heintges, who ordered them distributed to the officers and senior NCOs to the extent the supply lasted.
Sherman W. Pratt
Arlington VA
Lt Col US Army (Ret)
Interestingly, Mr. Pratt's camera was also scaled in imperial units. Although it is a somewhat later serial number (#089XX) the stories are so similar that it is hard for me to believe they are not true. I am presently trying to track down Mr. Reed also to get more information about this interesting piece. I will update this site to reflect any new information about this and if anyone can help shed some light on it please feel free to contact me!
Here is some information on Sherman W. Pratt's credentials: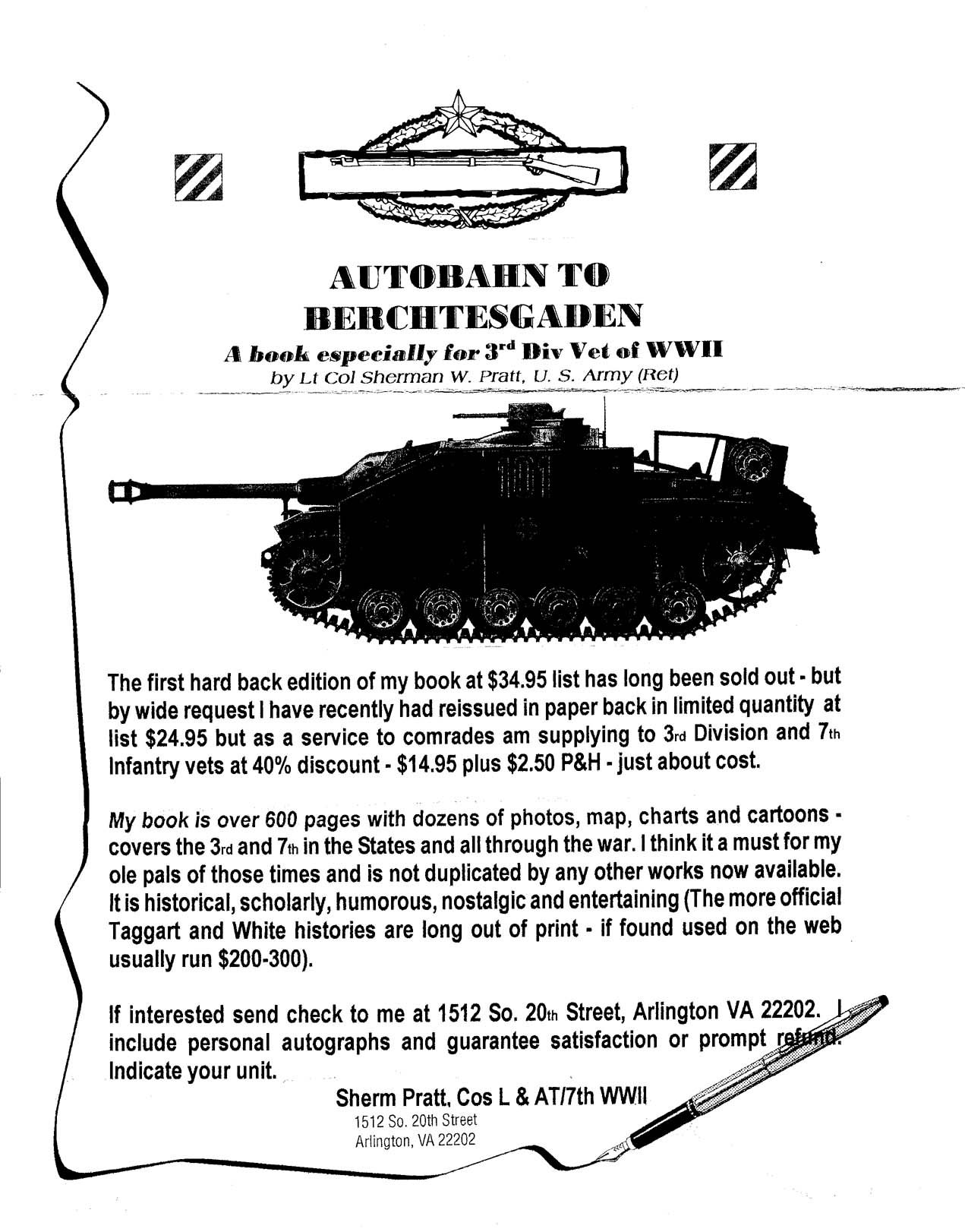 ---
Riga Minox No.02434 With Flash Sync Plug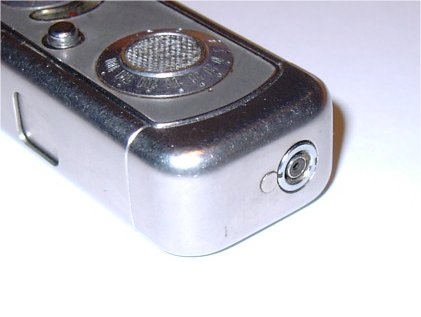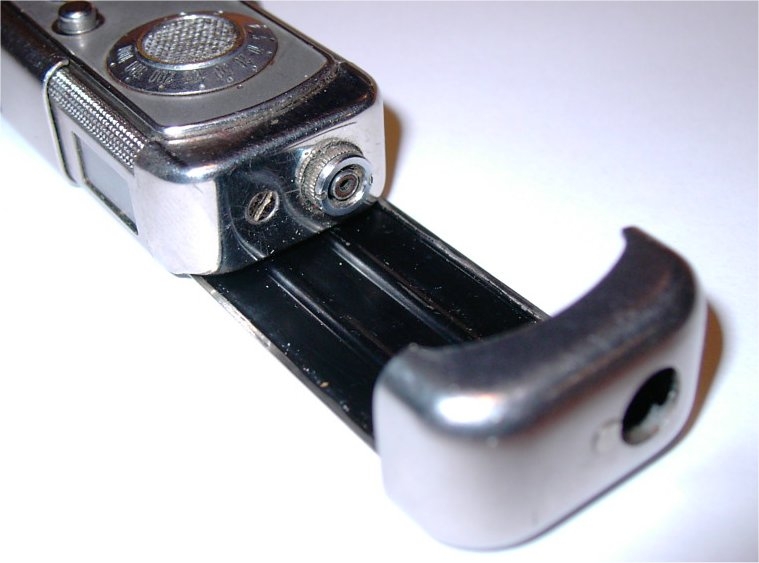 Here is an interesting curiosity...it is a Riga Minox camera which has apparently been professionally modified to incorporate a fully functioning flash sync plug. I don't own this camera but was sent photos of it from someone who was interested in knowing more about its history. I can't say I know too much except that a similarly modified Riga is pictured in Heckmann's book, but that is a later one (from the Soviet occupation era).
The style of the sync plug is more Asian than European according to Don Goldberg who speculated that this aftermarket modification may have been done in Japan. If anyone knows more about this please contact me at info@minoxdoc.com and tell me the story!
---
Riga Minox Set #16360 With Pink Box and Latvian Manual
I will be honest that I don't know what to make of this set. I bought it recently from an eBay seller in Riga Latvia who sells an awful lot of Riga Minox items. The set was represented as being original but the camera is so clean it is hard to believe it was ever used let alone 60+ years old. It was sold as a camera with its box and original warranty "passport" along with an instruction manual (in Latvian) and a negative holding folder. Here are some photos of the set: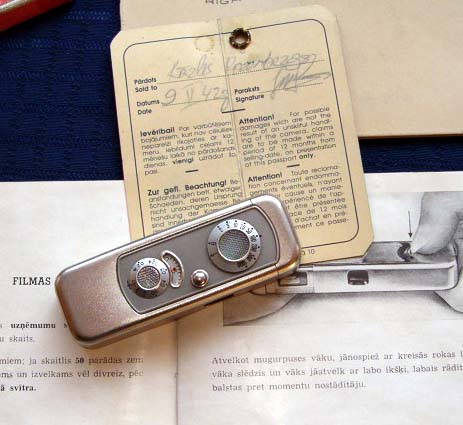 You can see here the box is pink which is not like others I have seen, although it is old. The box is lined with felt which looks modern. The camera is absolutely mint. Like the day it was made, inside and out. The paperwork, especially the warranty passport all look very old and original, but I suspect the passport may have been "leftover" and blank and recently stamped with the serial number and filled in because the font on the serial number is different from #6876, as seen above. But maybe they just changed stamps over the production and it is really original? Like I said, I really don't know. Either the papers are old or very well made to look old.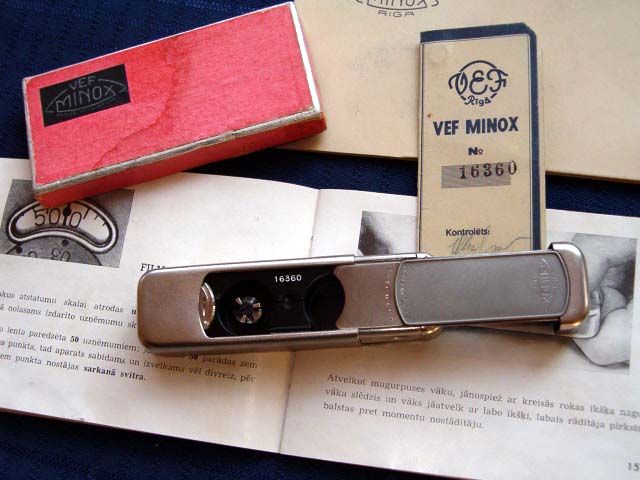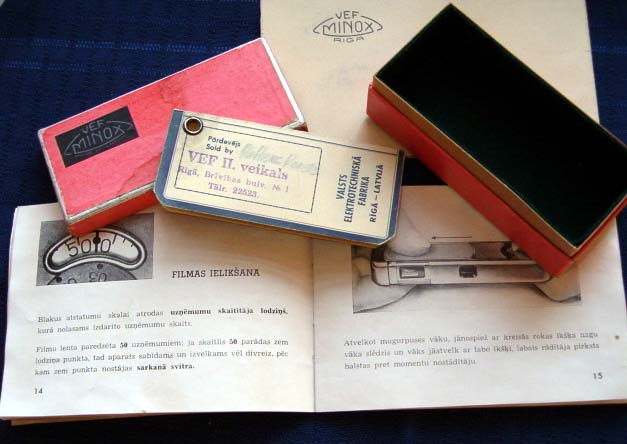 If anyone knows more about these late serial numbered cameras coming out of Latvia please contact me, I am very anxious to hear about them.
---
Riga Minox #17130 - Perhaps The Highest Serial Number Camera in Existence?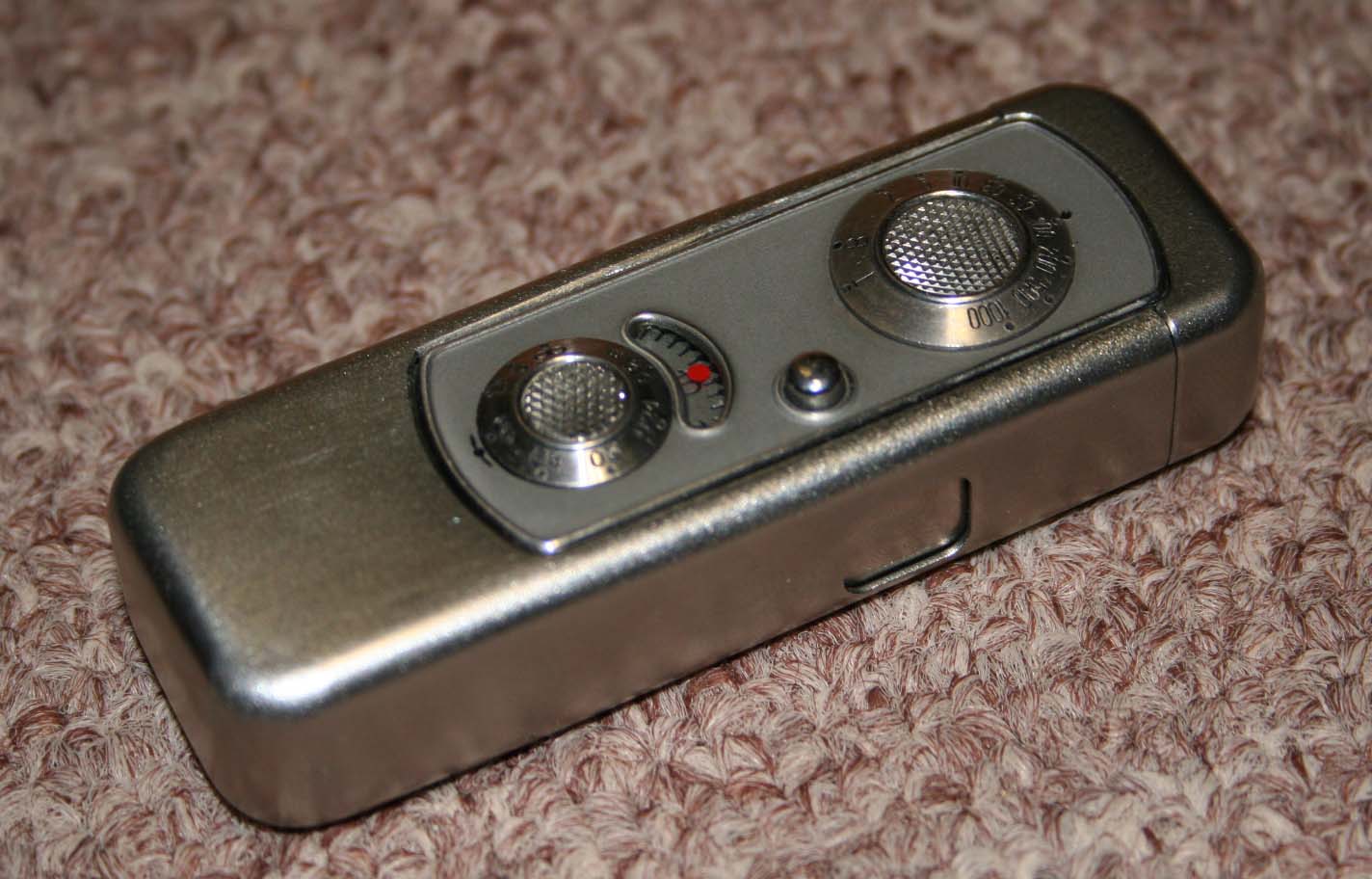 This camera recently came into my collection by way of DAG camera repair's Don Goldberg. I cannot recall seeing any completed cameras with serial numbers over 17000 though I have seen some chassis floating around in their unfinished state with numbers over 17000. As Don tells it in his own words: "This is the Riga that I made from parts in 1977. These parts were given to me by the first German to work at Minox in Germany, Karl Kleiner."
---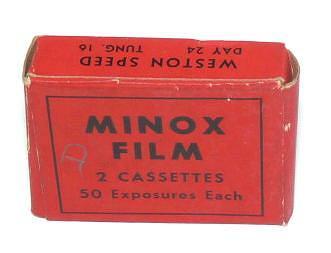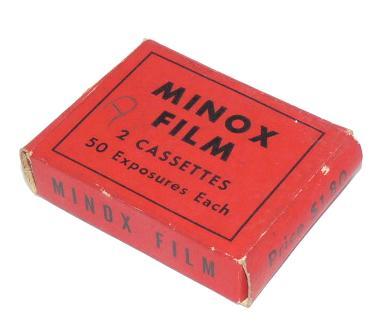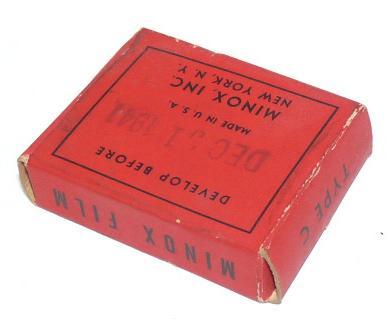 This early film box recently was offered on ebay and it is one I have never seen before. The original yellow and black "Riga" era film tins are relatively common. This box represents packaging from the same era, but obviously much less likely to survive 70+ years due to it being cardboard and not tin. It is especially interesting to note that even the price ($1.80) is shown on the box. It is labeled "made in USA" so it was probably film that was slit and loaded into the brass cassettes at the Minox office in NY.
Photos appear courtesy of ebay seller "buythetiques", who offered these for sale in April of 2012.
The entire content of this site (text and photos) is © 2012, all rights reserved